Accredited Certification Body
Registration inspection agency based on the Ministry of Health, Labour and Welfare "Food Sanitation Law"
Fiber evaluation technology Council (JTETC) commissioned testing laboratories
Antimicrobial Product Technology Council (SIAA) Testing Agency
Nippon Interior Fabrics Association (NIF) testing laboratory
Interior Fabrics Performance Evaluation Council certification designated inspection agency
Product safety registration cause investigation agency network
Far Infrared Association Testing Organization
AWI certification testing organization
Consumer Product Safety Association (SG mark) consignment inspection agency
Japan membrane structure Association designated examining agency
Each department stores, mass retailers, mail order, etc. certification inspection agency
Each material and apparel manufacturers such as certification inspection agency
Designated testing organization based on the "Working Environment Measurement Act"
ISO9001 certification authority
JNLA registration test operators
Designated performance evaluation organization it based on the "Building Standards Law"
Cashmere Camel Manufacturers Association (CCMI) certification testing organizations
International feathers Association (IDFB) certification testing organizations

We are Strategic Partner of White List Management System
Shanghai Aili Apparech Check & Mending Co., Ltd. (AIKEN), one of the BOKEN Group, has been certified as a accredited inspection agency from China Textile Industry Association (CNTAC).
BOKEN will approach a task listed below within this system, and continue to strive in serving Japanese textile industry.
Purpose of White List Management System
The purpose of this system is to ensure safety of each process until the end product is produced so that it will not contain hazardous substances. In order to achieve this, provide guidance and information from the view of safety management of world's regulatory trends of chemicals around the world and characteristics of the chemical substances.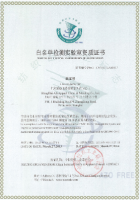 Approach of BOKEN towards White List Management System
Activities of this system is not just for one company but intended to spread to all chinese textile industry (raw materialindustry, textile industry, dye stuff industry and sewing industry) which has big impact on media and influence. BOKEN will provide detailed safety information, etc. of Japan.
We will attempt in sharing information between China and Japan of training session of China Textile Industry Association, legal information of Japan to participate in seminars and provide consumer information, etc.
Since China Textile Industry Association is in conjunction with the world textile industry associations, latest infroatmion regarding safety of world's chemical regulatory information, test standard information, etc. is provided from the association. We will be the help desk of these information within Japan.
Ulizing this system, we will hold a BOKEN exhibitions, seminars, etc. in China and disseminate the quality management level of Japan to Chinese side.
We will cooperate and participate in making of "Textile Industry Chemical Management Guidelines" issued by the Staining Association in China, and hope they will understand the safety requirements in Japan.
As well as cooperation in ensuring safety of textile products, we will contribute to the trade promotion between Japan and China.